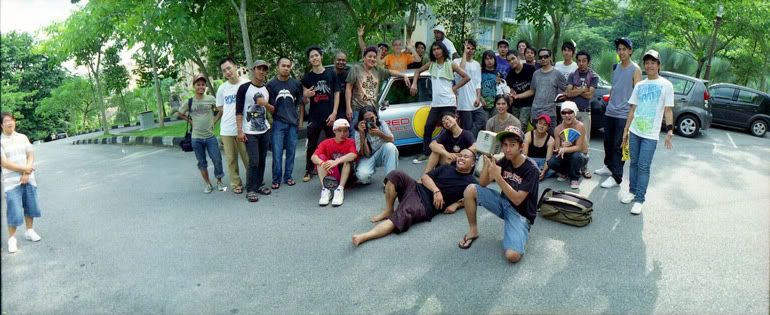 Everyone was feeling so happy to have so much fun in Penang for S4S5,
Sukeats said this was the most exciting S4S ever,
Naz said this was the most happening street skating comp ever,
Hooi said this was the craziest S4S ever,
And most of us just couldn't believe to see so many special huge trick on the final round.
The judges had such a big headache to pick out a real winner of the S4S5.
Lui deserved the Stunts4Swag Rock this year for his deadliest trick.
While others were not performing as bad too.
Rails in Penang are too good be challenged.
First round in Youth Park.
Some random shots of friends and skaters,
It was good to see so many inline skaters gathered together once in a while.
We even had Redbull sponsored lots of Redbull power drinks.
Also Rupert Rage, Cool Element and Rockpaperscissors sponsored loads of prizes.
After the great and tiring skating day,
It's the party time,
Yessss, for the successful Stunts 4 Swag 5.
These are the crew of Wheel Love,
Organizers of S4S5,
6 old friends reunite in Penang Love Lane,
and a little cameraboy took this lovely shot for them.
It was a great trip to Penang, and it was an amazing S4S5!
Looking forward for S4S6 next year!
S4S5 Results:
1st - Lui; Disaster gap to Fishbrain.

2nd - Fariq; Topsoul to 540 out.

3rd - Meme; Soul Grind to 720 out.
Congratulations~!!!
*Not much photos taken for the final round because there were so much power and force that made me stunned at one corner.